Who should own DNA? All of us
See on Scoop.it – Advocacy Action & Issues in Cancer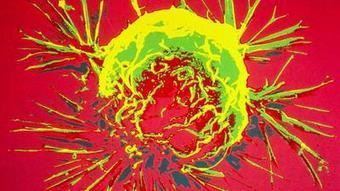 "
Most court cases involving patent law are corporate battles, with one company suing another for infringing on its intellectual property rights and, therefore, profits. Big companies fighting over big money can seem painfully irrelevant, especially when so many of us are simply struggling to get by.
But the case coming before the U.S. Supreme Court on Monday challenging two patents is a different animal, with enormous implications for both our health and shared humanity. The patents in question are on two human genes, BRCA1 and BRCA2, commonly referred to as the "breast cancer genes."
Heather Swift's insight:
"Myriad's strict patent enforcement means its test is the only available one to determine whether a woman has a genetic variant that increases her risk of cancer. Women cannot get a second opinion about the results, even when faced with a decision about removing healthy organs to reduce their cancer risk. And too many women cannot even have the test because it is too expensive.
Furthermore, since Myriad's test focuses on the variants that have already been identified, some women, especially women of color, are more likely to get ambiguous results. They are told they have a genetic variant but that Myriad doesn't know whether it increases their risk of cancer."
Myriad should not be allowed to have a patent on our genes especially because in refernce to the BRCA! and BRCA2, breast cancer genes, there is so much more research that needs to be done and Myriad should not be the only company able to monopolize the work involved to find out as much as we can about genetic risks of breast cancer. This test as well as futiure tests are vital to breast cancer research and people who carry these genes to help them determine options for bresat cancer treatment. Thanks to Breast Cancer Action, one of the plaintiffs in this case we are hoping that the Supreme Court goes against Myriad and makes the right decision that doesn't allow Myriad to have this patent. This case will set an important precedent on the future of patents for all the genes that we are trying to uncover in realtion to cancer as well as many other diseases.
See on www.latimes.com